Next Steps … Walking As Preparation for Running … We need your feedback and contributions!!
Dylan Morrissey and Akram Alomainy (organisers of QMUL in Motion) introducing the main aims and objectives of the one-day cross-faculty event!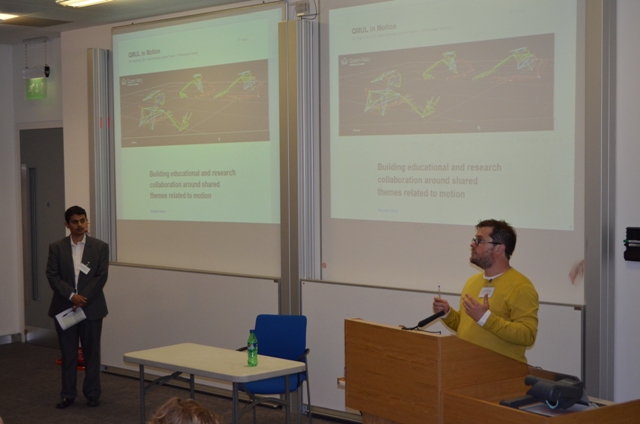 Researchers from the various faculties at QMUL talking instrumentation and current state-of-the-art in motion research!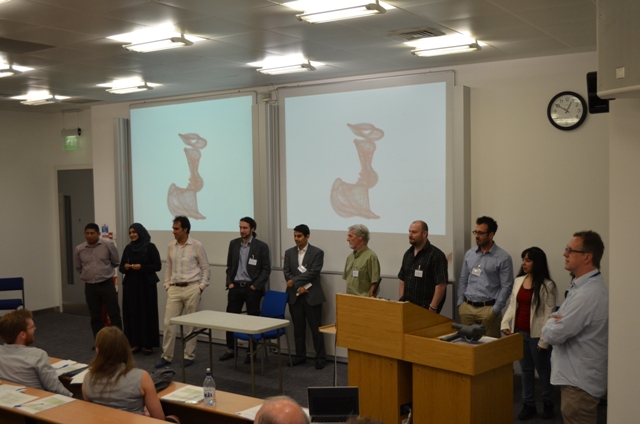 Glenn Hunter from UK Sport discussing the challenges faces by athletes and the need for better and efficient monitoring and assistive technologies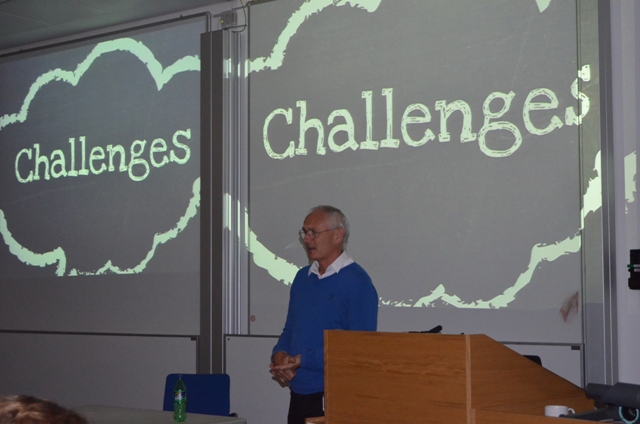 David Grant introducing initiatives in local councils and the need for wider participation from various stakeholders and academic institutions …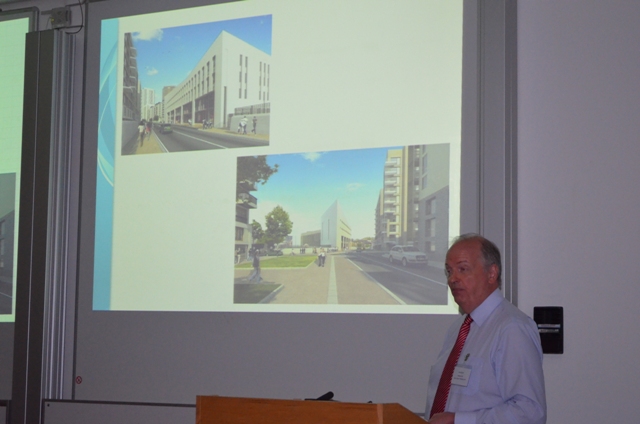 Three time Paralympic medallist at London 2012, Deb Criddle, talks about her passion of Dressage and how technologies and science can help in getting the best out of our horses … The sporty ones!!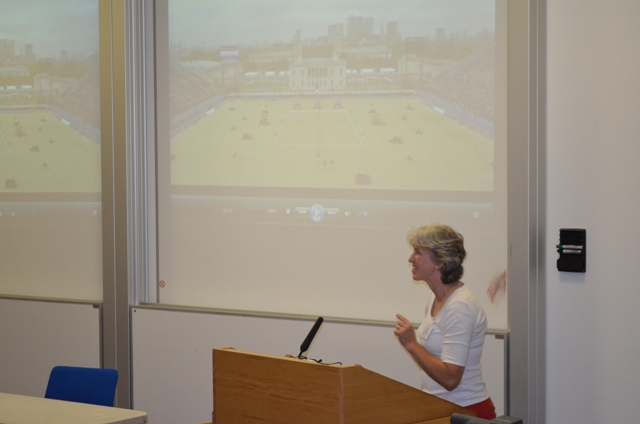 ** Final Programme **
** Abstracts of Presentations **
Building educational and research collaboration around shared themes:
Instrumentation for capture and technology for transmission
Data analysis
Applications – animation, robotics, surveillance, medical, human interaction and performance
Date: 5th September 2013
Venue: Clark-Kennedy Lecture Theater, QMUL Whitechapel Campus (The lecture Theater is in Building 5 on the downloadable pdf map)
Aims and Objectives
The aims of this one day conference are to bring cross-faculty QMUL strengths in motion capture to bear on:
development of an educational offering,
development of a research programme,
development of an industry stakeholder group
** Final Programme **
Special Guests & Speakers
We are delighted to welcome Deb Criddle, three time Paralympic medallist at London 2012 who will challenge the conference to provide solutions to real world problems.
We also welcome Dr Glenn Hunter from UK Sport Research and innovation to share some of the lessons from 2012 and strategic plans for Rio.
We are privileged to have David Grant, a senior healthcare commissioner who has exercise for health close to his heart. Both Glenn and David will challenge the group to come up with solutions to problems in the sporting and healthcare fields.
In addition, many esteemed QMUL researchers will be presenting their take on some of the challenges and current state-of-the-art related to the main themes of the conference.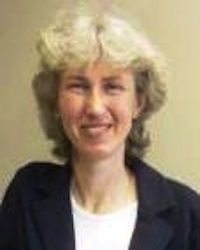 Deb Criddle – All through my school life I was highly competitive in just about every sport offered but rather oddly I was not terribly confident in the activity that I most loved, horse-riding.  I was what is termed a 'Happy Hacker' and would have been extremely content to have continued as such but for an unfortunate accident at the age of 19.  I can even remember one of my instructors telling me I would never make a rider; it certainly brings a smile to my face now to think about it. In 1985 I was knocked off my motorcycle and sustained serious injuries to the right side of my body, which included 6 fractures in the leg and a brachial plexus lesion which left the arm totally paralysed. Convalescence was a long process and at the end of it I felt quite disassociated from general life and particularly uncomfortable in social situations.  I desperately needed to reconnect with the person I had been so I turned to my love of horses in the hope that I could find myself.  I know that sounds a bit melodramatic but I felt I had lost so much, and the horse, being the amazing creature that it is, showed me that there are other pathways and openings if you are just prepared to make that first step in looking and secondly work hard to achieve progress.
I never dreamt that I would achieve all that I have in my career; I just wanted to learn to ride to the best of my ability. My current horse is a Swedish Warmblood called L J T Akilles, loaned to me by The Lady Joseph Charitable Trust in 2011.  I am very lucky to receive funding from The National Lottery without which I would never have been able to continue with my career. I am also half-way through studying with the Open University for a Bsc in Natural Sciences.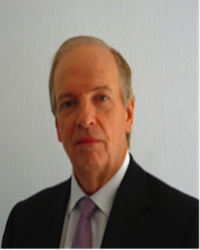 David Grant has worked in the field of health of social care for nearly 40 years and is passionate about improving management of long term conditions.  He worked for several years as a senior operational manager in social care in Local Government, including managing integrated services.  David then established his own health and social care consultancy business in 1991 and is currently working for Newham CCG as Programme Director for the Sir Ludwig Guttmann Health and Wellbeing Centre on the Olympic Park.  David has comprehensive knowledge and understanding of policy and practice affecting the NHS, local government and the independent health and social care sector.  David is passionate about using innovative and integrated ways of working to improve community health and social care services.  His address will challenge the meeting to focus on problems that underpin some of the biggest health challenges in East London, and beyond.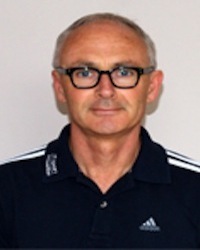 Dr Glenn Hunter is a consultant in research and innovation and is a member of the Research and Innovation team at UK Sport where he heads up a program of work focused on Athlete health and risk. The UK Sport R&I team aims to be the most feared team in the world in the area of finding marginal gains in elite sport, i.e. the accumulation of legal and ethical performance gains through research and innovation for the performance benefit of the UK's Olympic and Paralympic athletes. Glenn is a chartered physiotherapist and on top of his work for UK Sport is currently doing his PhD in design and Innovation at the Royal College of Art.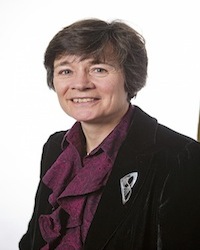 Professor Susan Dilly is the Vice Principal for Teaching and Learning for Queen Mary and Professor of Pathological Sciences / Honorary Consultant Histopathologist in Barts and the London NHS Trust where she specialises in perinatal pathology. She trained at University  College Hospital, London and later became a consultant histopathologist at St George's Hospital Medical School. Her strong interest in education led to her becoming the Director of Medical Education for the Hospital and the Postgraduate Dean for the Medical School. She moved to Keele University, Staffordshire in 1998 as Dean of Health to lead the successful bid for a new medical school and then implemented this as Head of the Medical School. She joined Barts and The London Medical School in September 2006 as Director of the Institute for Health Sciences Education and Associate Dean for Undergraduate Medicine before assuming her current position in 2010. Externally she is an institutional auditor for the Quality Assurance Agency, a governor at Drapers' Academy and a Board Member of the Human Tissue Authority.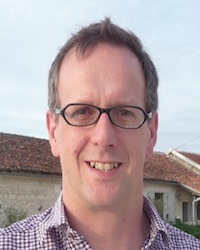 Prof. Pat Healey is Professor of Human Interaction and leader of the Cognitive Science Research Group at Queen Mary University of London. He also Co-directs the Media and Arts Technology Programme, a UK government sponsored Doctoral Training Centre. He trained in Behavioural Science at the University of Nottingham and subsequently in Cognitive Science (MSc and PhD) at the University of Edinburgh. His research interests focus on developing novel technologies for enriching and extending human interaction."
CALL for Presentations and Posters
We invite poster and rapid 5-minute presentations from across QMUL to compete for generous prizes.
Stakeholder and Industry CALL
If you are interested in motion capture, either as a manufacturer or as a user – then this conference will give you a chance to influence and be part of future QMUL initiatives in this field. We are planning significant educational, research and outreach developments and would like your input. Specific industry aims include
Cost
The cost is only £10 contribution towards food and refreshments. Payment and registration is at the QMUL e-shop at  http://eshop.qmul.ac.uk/browse/extra_info.asp?compid=1&modid=2&deptid=34&catid=1&prodid=389
Organisers